| | | |
| --- | --- | --- |
| | Main Menu | |
Live TV Radars


Model Maps


NEW STUFF


Weather Maps


Radar & Satellite Maps


Tropical Weather Tracking


Local City Pages *New beta*


Streaming & News Feeds




Site Information

| | | |
| --- | --- | --- |
| | sponsored links | |
| | | |
| --- | --- | --- |
| | Sponsors | |
| | | |
| --- | --- | --- |
| | Who's Online | |
There are currently, 182 guest(s) and 0 member(s) that are online.

You are Anonymous user. You can register for free by clicking here
| | | |
| --- | --- | --- |
| | | |
Welcome To Rob's Live Weather Radar Page
I need your help, if you are a webpage designer, This page is very out dated, has many errors in the code, and the code itself was last updated in 2007. What I need is someone that can create a php type site, a neat style sheet and a similar layout, front page left side bars, header, footer, right side bars and rest with out the without the right sidebar. I would just need the basic layout, I know enough (to be dangerous) to add all the pages and the weather html, in other words, you don't have to create the whole site. hmu at rdelp68 at gmail Thanks

Blog NWS: Showers and thunderstorms forecast across eastern, southern U.S., snow from Great Lakes to New England

A cold front moving across the East Coast will bring rain and thunderstorms from the Gulf Coast to the Northeast on Thursday, with isolated severe thunderstorms possible for parts of the mid-Atlantic. Farther to the north, snow is forecast from the Great Lakes into northern New England Thursday evening into Friday morning.


Custom Search









PUSH PLAY BUTTON if not in MOTION RADAR



Your own Radar map
Regional Radar Map

Regional Radar Map

**** WEATHER RADAR WITH STORM WARNING PATH - ***


Today's Severe WX outlook
University Illionis at Urbana-Champion
Watches and warnings Map Click to open larger view
Watches: Tornado in red Severe T-storm in blue
Today's Forecast Map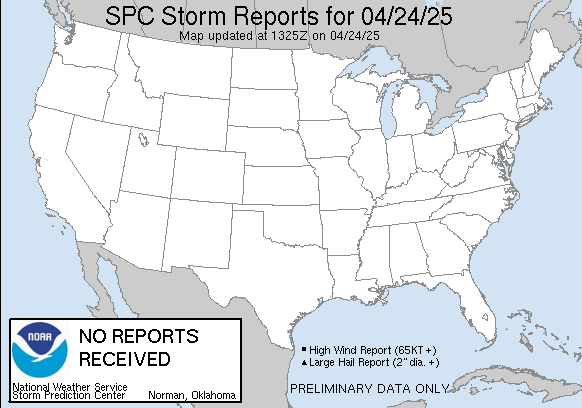 Today's Storm Reports Map
| | | |
| --- | --- | --- |
| | Local NWS Forecast | |
| | | |
| --- | --- | --- |
| | Live Weather Warnings | |
| | | |
| --- | --- | --- |
| | Cell & Mobile Device links | |